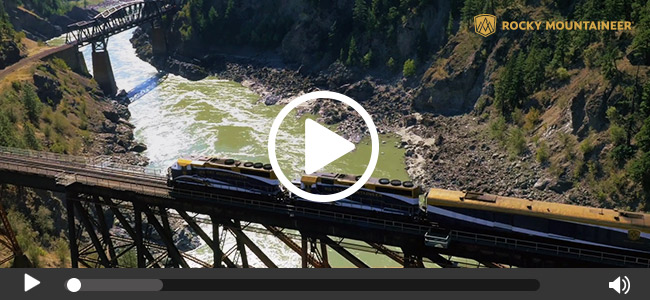 Packaged Specials with Rocky Mountaineer
Get ready to enter a hidden world of unparalleled beauty as you carve your way onboard the world-famous and iconic Rocky Mountaineer, through the otherwise inaccessible and majestic landscapes of the Canadian Rocky Mountains. Indulge yourself on a 5-star luxury rail journey where your only responsibility is to sit back, relax and enjoy the view through your glass-domed carriage, showcasing snow-peaked mountains and golden sunsets as you travel deeper into the secret haunts of bear, caribou and other wildlife.
Onboard, Rocky Mountaineer's award-winning chefs create sophisticated and delicious menus from the finest locally sourced ingredients. Canadian Cheddar Soufflé, Beef Short Ribs, Fraser Valley Chicken, Vegetarian Mount Robson stack or Seared Albacore Tuna – and let's not forget dessert – Cranberry Apple French Tart (oh sorry that was for breakfast!) – dessert is whatever the chef creates on the day – yum!
Select from three exciting packages (Ask – we have more!). Each includes return flights from Sydney (just ask for other cities), hotel stays, a unique Rocky Mountaineer rail journey, and additional inclusions that range from an Alaskan Glacier cruise to a New York stopover!
Discover your next Rocky Mountaineer journey today:
16 Nights | GOLDRUSH TO GLACIERS Package including Alaska Cruise VIEW DEAL HERE >>>
11 Nights | COASTAL PASSAGE & CANADIAN ROCKIES Package including New York extension VIEW DEAL HERE >>>
17 Nights | ROCKIES & GLACIERS Package including Voyage of the Glaciers Cruise VIEW DEAL HERE >>>
And get onboard Rocky Mountaineer for the most luxurious journey you've ever experienced – your memories are waiting!
Book online today at Accor Vacation Club Travel or simply give us a call on AU: 1800 70 80 90 or NZ: 0800 45 19 97